Name: Boomer Stelmach
Resides: Central Minnesota
Years in the Outdoors: 20+


Hunting Resume: Avid Waterfowler who has hunted Mallards in Mississppi, Missouri and Minnesota; pushes Roosters in Minnesota and South Dakota. Grunted at big Whitetail bucks in Missouri and Minnesota; loves to glass Antelopes in the mountains of Wyoming. Chases Gobblers in Missouri, Iowa, South Dakota and Minnesota. Co-Host on Cumulus Minneapolis Radio 105FM The Ticket & IHeart Radio - "The Ticket Outdoors" Show & Radio Guest on WJON's 1240AM & 98.1FM Country "In the Outdoors" show, plus BOB 106.1FM "Bear Facts and Fish Tales."
Fishing Resume: Pursuing his Fishing passion by snapping Hooksets in: Arkansas, South Dakota, North Dakota, Wisconsin, Kansas, Missouri and Minnesota. Pursued deep waters to offshore fish both the Pacific & Atlantic Coasts for Tarpon, Groupers, Snapper & Snook.
Favorite Trip: Fighting and landing a Tarpon for 1.5 hours "freehand" with in Gulf of Mexico.
---
Name: Bernie Keefe
Resides: Denver Colorado
Years in the Outdoors: 40+
Fishing Resume:
Owner operator of "Fishing with Bernie"
www.fishingwithbernie.com
https://www.facebook.com/pages/Fishing-With-Bernie/325634895143?ref=hl
Bernie Keefe has been guiding in the middle park area of Colorado for over 25 years. Specializing in trophy Lake trout but he is equally passionate about Rainbows, browns and salmon. His current tournament record is 26 top ten finishes in 32 tournaments. Bernie would rather take someone fishing then go fishing himself, teaching is the cornerstone of "Fishing with Bernie". His sponsors include Crestliner Boats, Mercury Motors, Colorado boat center, The Ice team, Clam, Lowrance, Vexilar, Berkely, Sebile, Fenwick, Pflueger, Eagle Claw, Motorguide, Habervision and A&A Topper.
Favorite trip
. Kids day, every year I take a group of kids fishing. They remind me why I got addicted to fishing.
---
Name: Mike Atkocaitis
Resides: Central Illinois
Years in the Outdoors: 20+
Fishing Resume: Multispecies fisherman. Casting a line from all across the Midwest even down to the Florida Keys. Perch to Sharks, The rivers, lakes, ponds, saltwater just runs in my veins. Fishing is a way of life along with the outdoors. I fish local walleye tournaments and bass tournaments across the area. Mike's other passion is photography. Shooting the outdoors and fishing...he loves capturing those moments of real raw excitement. This is why he started www.FishyTweaks.com. Trying to bring out the real beauty of the outdoors with my photography and the biggest part of fishy tweaks is bringing out the excitement, energy, passion, adrenaline, and all around fun of that moment caught.
Favorite Fising Trip: Too many to mention for Mike, but fishing with his family is a favorite; not to mention a shark fishing trip in Flordia a few year back...he explains as "JUST AWESOME!"
---
Name: Steve Carney
Resides: Central Minnesota
Years in the Outdoors: 40+
Hunting and Fishing Resume: We've combined Steve's profile because of his vast experience of hunting and fishing all over the United States. Steve has professionally guided for 30+ years in the Midwest; just depends on the season what Steve will be doing in the Outdoors. He writes for multiple publications in the Midwest and hosts a Saturday afternoon Outdoors show on CBS Radio WCCO 830am. Already endorsed by industry recognized brands, what a nice fit for the team!
Favorite Trip: What an enthusiast, every trip is special!
---
Name: Jerry Carlson
Resides: Central Minnesota
Years in the Outdoors: 50+
Hunting & Fishing Resume: Another Resume that is definately worth combining, there isn't much that Jerry hasn't hunted or fished in the Midwest; rain or shine. Jerry writes approximately 160 articles yearly for diffrent publications and had his own TV show in the 1980's called "In the Outdoors." He authored a book called "Details for Locating and Catching Fish" and hosts two weekly Outdoor Radio Shows in Central Minnesota on WJON AM WWJO FM.
Favorite Trip: Teaching folks about the Outdoors.
---
Name: Cora Asp
Resides: Central Minnesota
Years in the outdoors: 15+
Hunting Resume: A passionate Outdoors woman, especially when it comes to Duck & Goose Hunting. Cora buckled down in 2013 and chased Waterfowl in MN, WI, and ND.
Fishing Resume: A life long love for ice fishing which started my career in tournament fishing. Along with the Hardwater, open water and fly fishing. From Lake Superior for trout and salmon, inland lakes, and small streams for brook trout.
Favorite trip: North Dakota watching all of the waterfowl and getting the chance to perfect my call that I have named the "dying duck." The Blue Bills loved it.
---
Name: Thayne Jensen
Resides: Central Minnesota
Years in the Outdoors: 35+
Hunting Resume: Elk Hunting in the Northwest Mountains of Colorado.Chasing Bear, Whitetail, Waterfowl and Pheasants in MN.Pursuing wild turkeys in Iowa,Minnesota and Kansas.
Fishing Resume: Largemouth Bass Fishing in Missouri,Arkansas,Iowa and Minnesota.Teasing Walleyes in Canada,Minnesota and Iowa.
Favorite Trip: Talking Turkey with Toms in Iowa!
---
Name: Brennan Schuette
Resides: Southern Minnesota
Years in the Outdoors: 15+
Hunting Resume: To say Waterfowling is a passion of Brennan's would be an understatement, during the Fall there aren't many ponds/fields in MN, SD & ND that Brennan hasn't visited. A master at creating the "X Spot" for tornadoes of Mallards or Snow Geese in the field.
Fishing Resume: Throws leeches/minnows for Walleyes in Minnesota, South Dakota & North Dakota. Open or Hardwater doesn't matter, but does love to chase "bucketmouths" on hot summer days.
Favorite Trip: Field hunting Mallards across MN & the Dakota's!!!
---
Name: Cameron Dahedl
Resides: Northern Minnesota
Years in the Outdoors: 15+
Hunting Resume: Cameron has been in the woods since he was a couple years old. He is a waterfowl extremist to say the least! He loves decoying Ducks and Geese in Minnesota. He has also ruffled upland feathers in Minnesota and South Dakota. Cameron has harvested Whitetails by Bow and Rifle in Minnesota.
Fishing Resume:As a multi species angler Cameron is highly addicted to bowfishing. He has hooked into Muskie, Northern, Walleye, Small & Largemouth Bass, Crappies, Bluegill and Perch from Minnesota to Canada. Fishing is a pure lifestyle for Cameron whether it's in a boat or on the Ice.
Favorite Trip: Setting the hook on his first Sturgeon on the Rainy River!!
---
Name: Andy Wickland
Resides: Eastern Wisconsin
Years in Outdoors:20+
Hunting Resume: From Spring Strutters to the Fall Rut Andy has accomplished it all. Stalking Whitetails for numerous years, his passion now lies in the duck blind and bow hunting big game. Autumn consists of crisp mornings on the water setting his eye on Canvasbacks and Bluebills in the Fox River Valley. Andy has harvested almost every Big Game animal Wisconsin has to offer. He has also let his shotgun meet the feathers of pheasants in Minnesota with his Dad and Brothers.
Fishing Resume: Trolling for Walleyes on Lakes Winnebago, and Michigan netting 30 inchers is a common feat for Andy. Bluegills and Crappies in the spring is always on his hitlist after his multiple Ice Adventures to Minnesota to capture Perch and Walleye.
Favrite Trip: Opening Day of Wisconsin Whitetail gun season 2009: Andy's two Brothers, Father, and Grandfather hunted together for the first time!
---
Name: Todd Forcier
Years in the Outdoors: 25+
Fishing Resume: A professional musky guide (40+ trips yearly) whose obsession of chasing muskies in central Wisconsin has provided his clients with a positive, educational and rewarding experience for them. If musky fishing is slow, Todd will take the time to search for other game fish such as walleyes or crappies for his clients. Professional fishing guide, tournament fisherman, tournament director, and works with kids to promote fishing.
Favorite Trip: Being able to net each of my daughter's muskies.
---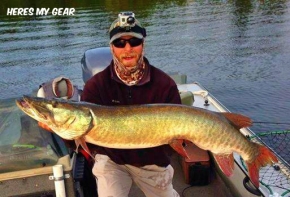 Name: Jean-Paul Tessier
Resides: Baudette and Oak Island, MN
Years in the Outdoors: 20+ (The rest of my life was spent in a hockey arena)


Hunting Resume: As an avid Whitetail Deer (bow and rifle) and Rough Groused hunter, it has given me the opportunity to explore hundreds of sq. miles in Northern Minnesota, or as I refer to it, God's Country. I also am a licensed and insured outfitter that provides guided Goose and Duck hunts in Lake of the Woods County.
Fishing Resume:
The first memory I have retained, is fishing with my Father and Grandfather on Rainy Lake when I was 3. But my Father always said, I was fishing before I was walking. With the love of being on the water, it has shaped the man I have become. I run over 100+ guided fishing adventures on Lake of the Woods (Walleye, Muskie and Crappie), and provide on average over 80 shore lunches a season (June – September). I run a majority of my fishing adventures out of my Oak Island Base Camp, the "Big Thumb Angle Outpost". The opportunity of spending so much time on the water has enabled me to create my business, Lake of the Woods Outdoorsman,
www.lakeofthewoodsoutdoorsman.com
. During the Winter Ice Fishing season I retreat back to Baudette and run a Sleeper Ice Fishing business off of a well-maintained ice road, along with running portable ice fishing adventures, which means I'm on the ice, everyday, for well over 3 months every year.
I'm blessed to have a few outstanding businesses support my obsession…Clam Outdoors, Hot Spot Outdoors and Big Tooth Tackle.
Favorite Trip: There have been so many, but late ice fishing for Lake Trout and Whitefish on the Canadian side of Lake of the Woods, to this date, has been my favorite.

---
Name: Mike Ferrell
Resides: Central Minnesota
Years in the Outdoors: 25+
Hunting Resume: Chased Whitetails in Minnesota, the Upper Penninsula Michigan, and Wisconsin. Mike has also harvested Minnesota Black Bear and Canadian Moose. He has fielded Roosters, chased Grouse and spent many years in the duck blind hunting Waterfowl. When the fall arrives, Mike spends time at his hunting shack scouting for the illusive buck and cutting an endless amount of firewood.
Fishing Resume: Current Clam Outdoors Pro Staffer, Mike's extreme passion is walking on water! During the frozen months chances are Mike is chasing Crappies and Gills on the Ice somewhere in the Midwest. This past winter Mike spent over 250 hours, covering 3 states chasing fish through the Ice. He also spends time fishing tournaments in the winter as well. His favorite is the Ultimate Panfish League. During the "thawed" season Mike enjoys spending time on the water chasing Muskie and Pike. Mike has also fished the Gulf of Mexico, Chased Salmon and Trout on Lake Superior.
Favorite Trip: Watching his oldest daughter harvest her first Whitetail buck!!!
---
Name: Tim Moore
Resides: Southern New Hampshire
Years in the Outdoors: 30+
Hunting Resume: An avid whitetail deer hunter and professional turkey hunting guide who has been featured on WMUR's NH Chronicle.
Fishing Resume: Tim is a professional angler who is a pro staff member for an impressive list of companies which include Ice Team, Clam Outdoors, Vexilar Inc., Maki Plastic, Jase Custom Fishing Rods, Oozzie Jig, Release Reels, and of course HMG! Tim is a professional fishing guide (www.TimMooreOutdoors.com) in New Hampshire where he guides kayak fishing trips for striped bass during the summer and panfish in the fall. He is most well known as an ice fishing guide on New Hampshire's Lake Winnipesaukee for jumbo white perch and lake trout.
Favorite Trip: Ice fishing for giant Lake Winnipesaukee white perch.
---
Name: Ryan Jaeger
Resides: NorthWest Ontario
Years in the Outdoors: 15+
Hunting Resume: Stalking breathtaking Moose & WhiteTails
NorthWest Ontario, whille making time to harvest some Grouse!
Fishing Resume: Hooking Monster Musky, Golden Walleyes, Pike & Scrappy Smallmouth Bass on Eagle Lake,
OntarioCatchin' Crappies on Lake of the Woods and in Minnesota.
Favorite Trip: Catching my very first Muskie!
---
Name: Jake Flaa
Resides: Northern Minnesota
Years in the Outdoors: 15+
Hunting Resume: Avid waterfowler who has hunted ducks and geese in Minnesota, North Dakota, Missouri, and Arkansas flushed pheasants in South Dakota and Minnesota! Shot snows in Arkansas, Missouri, and North Dakota! Chased deer in Minnesota and Wisconsin with bow, rifle, and muzzleloader. Bugled for elk in Colorado! Photographer and Videographer for Minnesota Sporting Journal! Volunteer guide for Wounded Warrior Guide Service!
Fishing Resume: Set the hook on Walleyes/ Crappies/ Northern/ Bluegills/Sturgeon/ Lake trout in Minnesota, Oregon, and Canada! In a boat or on the ice the passion for fishing runs deep!
Favorite Trip: Watching a Purple Heart recipient high five his best friends and fellow veterans on the Willamette River in Oregon City, Oregon after releasing a 9 foot White Sturgeon!
---
Name: Alie Witthans
Resides: Central Minnesota
Years in the Outdoors 3+
Hunting Resume: Alie has chased Whitetails in Western and Northern Minnesota. While she prefers to hunt a tree stand over a ground blind, she will hunt just about anywhere the deer roam to seek out a Buck or Doe. Alie also enjoys grouse hunting in Northern Minnesota near Lake Superior.
Fishing Resume: Alie is an absolute fanatic for Ice Fishing! Alie has been an ambassador in the Ice Fishing industry for the last two hardwater seasons. A Powerstick staffer for Clam, she enjoys chasing giant panfish, and the occasional Walleye. Alie also fishes competitively in the Ultimate Panfish League as well. There is no species she doesn't like to catch. She has dropped lines in Minnesota, Michigan, South Dakota, and the Gulf of Mexico.
Favorite Trip: A Family trip to Florida in which she won the Braggin Rights to a 36 lb. Grouper.
---
Name: Captain Randy Powell
Resides: Gulf Coast of Florida
Years in the Outdoors: 20+
Fishing Resume: Live, eat & sleep saltwater fishing, this is Captain Randy's life. He owns Flats Factor Fishing Charters in Venice Flordia (www.flatsfactor.com). He has done everything from sight casting for redfish in ankle deep water; to catching Wahoo out of the bay boat. Tarpon season in Florida is his favorite time of year. Captain Randy loves sight casting to 1 50 pound tarpon while using a spinning rod! Clients love fishing with Captain Randy, hence he shows the big Gulf of Mexico to 500+ folks yearly!!!
Favorite trip: His favorite trip was his honeymoon to Key Largo. Words don't do a justice to the 5 days of filming compressed into 5 minutes at his wife's side!
---
Name: Jared LaFrance
Resides: Southern Minnesota
Years in the Outdoors: 30+
Hunting Resume: Pursues struttin Toms in MN & MO and chases Rudy's in SD. Grunts at big bucks in Iowa.
Fishing Resume: Fishes Bass Tournaments all over the Midwest! If we were to name drop :) ... The Ultimate Bass Tour, D's Bustin Bass, Lake of the Ozarks Big Bass Bash, the Okoboji Open in Iowa, Walmart BFL Great Lakes Division, Cabela's North
American Bass Circuit & Denny's Super 30 Lake Minnetonka
Favorite Trip: Chasing big bucks in Iowa!!!
---
Name: Adam Griffith
Resides: Central Minnesota
Years in the Outdoors: 20+
Hunting Resume: He has chased whitetails in Minnesota and Wisconsin. Flushed grouse in MN and roosters in MN, SD and ND. Decoyed mallards all over the state of MN as well as SD and ND. Also an avid turkey hunter where he hunts in the Rochester area. As winter sets in coyote hunting keeps him sharp for the next year.
Fishing Resume: Fished many of lakes and rivers in the upper Midwest - chasing walleyes to flatheads. He has never fished the ocean but would like to one day. Currently working toward becoming a fishing guide - mainly ice fishing. He loves putting clients on large crappies, some up to 18inchs. Fishes in the MN panfish league, finishing as high as 3rd Place in prior years.
Favorite Trip: Red lake during the crappie craze how can you not love catching on average 15inch crappies.

---
Name: William Libansky
Resides: Western Wisconsin
Years in the Outdoors: 25+
Hunting Resume: A true river rat for chasing Waterfowl, Bll's passion is cupped Mallards & Wood Ducks on the Mississippi. Grew up on the backwaters of Southern Wisconsin hunting WhiteTails, Rabbits & Waterfowl. Spends 60+ days a Fall as a Professional Duck Guide in Wisconsin.
Fishing Resume: Worls for Pro Tour Baits and PanFish Plastics. Loves chasing PanFish & Jumbo Perch thru the Hardwater with plastics but feels at home chasing "Jaws" like Smallies on the Wisconsin/Minnesota Rivers.
Favorite Trip: Sight fishing for big Gills on the Hardwater!!!
---
Travis Asp
Resides: Central Minnesota
Years in Outdoors: 20+
Hunting Resume: Hunting waterfowl with his labs is Travis' biggest passion in the fall. He hunts waterfowl primarily in WI, ND, and MN but has been blessed hunting IA, IL, GA, and MO. Also when he has time he hunts grouse, Pheasants, and Turkeys. Along with that Travis bow and rifle hunts Whitetails in the Midwest states.
Fishing Resume: Travis has been fishing since he could walk. Lake Superior is his happy place in the spring for trout and salmon. He hooks up on lakes, rivers, and streams in MN, WI, ND, MT, and Canada. It doesn't matter if it's ice fishing or open water fishing. He enjoys fishing for anything the Midwest has to offer with trout, salmon, walleye, and panfish being at the to of his list.
Favorite Trip:Any waterfowl hunt at my cabin in North Dakota and fishing on Lake Superior